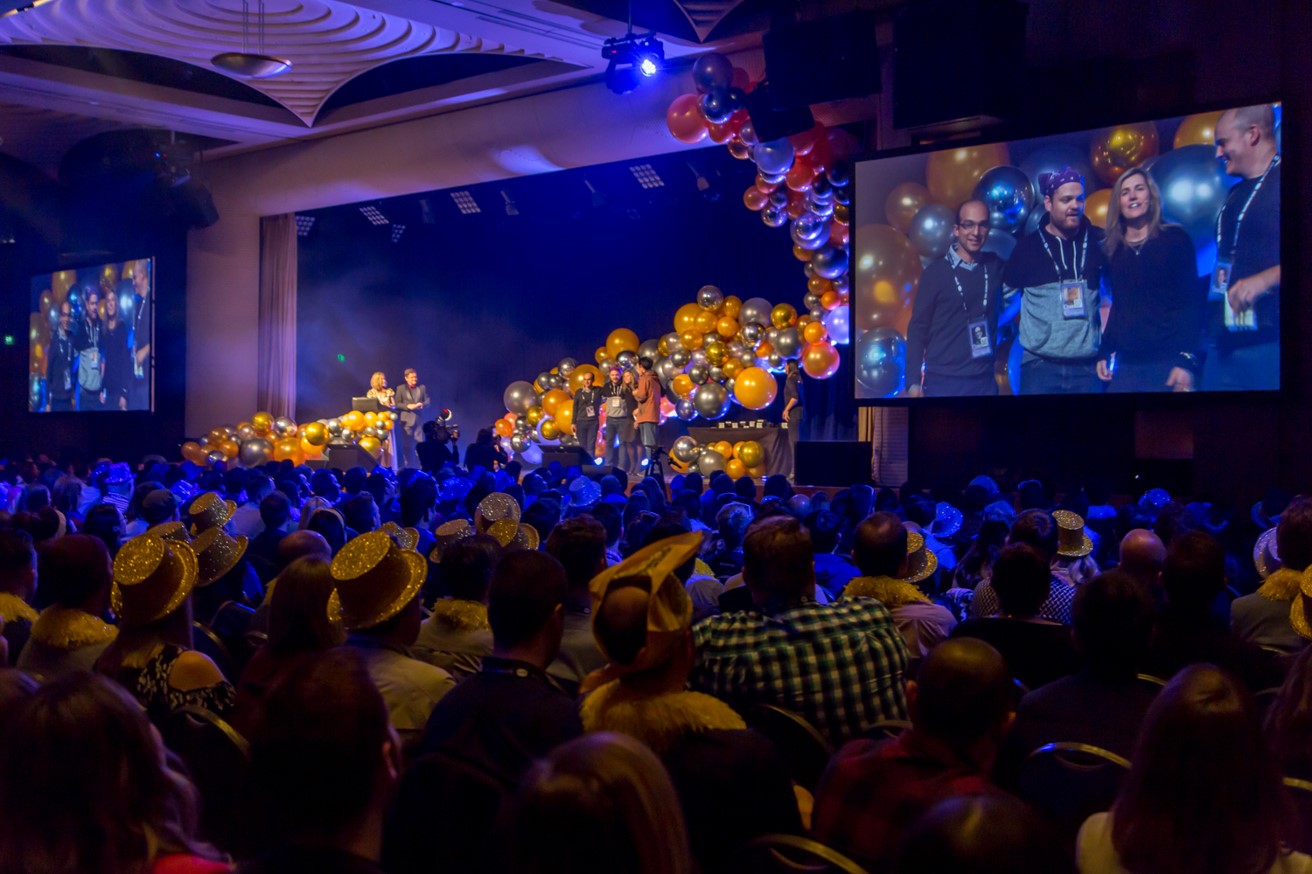 Liven up your next corporate event with entertainment that engages attendees and makes your program truly unforgettable. 
Interactive live music, awe-inspiring magic shows, hysterical comedy acts, and unique immersive experiences are fantastic options for bringing energy and excitement to any corporate occasion. 
Read on to discover the best entertainment for corporate events that will have your guests buzzing long after the last act.
Live Music and Performances to Get Your Guests Dancing
Nothing livens up a corporate event quite like live music and performances. 
The energy of the show gets your attendees engaged and brings an element of excitement to your program. 
Live music is one of the best forms of entertainment to make your corporate event feel like a party.
Hire a Live Band for Non-Stop Dancing All Night
One of the best entertainment ideas for a corporate event is booking a fun cover band. 
Their high-energy setlist of chart-topping hits old and new will pack the dance floor all night long. 
From rock and pop to Motown and disco, a live band can play something for every taste and generation. 
Seeing their coworkers and clients letting loose on the dancefloor creates camaraderie and lasting memories.
Look for versatile bands that engage the audience by taking requests and encourage song singalongs.
If possible, book a band that provides their own sound and lighting equipment for a showstopping experience from start to finish. 
Your guests will be buzzing about the band long after the last encore.
Bring the Party with a DJ Performance
Another fantastic musical option is to hire a professional DJ to spin tracks at your corporate event. 
Similar to a live band, an experienced DJ will curate their setlist to match the vibe you want to create. 
The DJ can read the room and pivot between genres to keep guests of all ages engaged.
Make sure to communicate the tone you want to set so the DJ can tailor their performance accordingly. 
Do you want an upbeat set focused on the latest pop and electronic dance music to turn your event into a giant dance party? 
Or is a tasteful blend of classic hits and deep cuts more appropriate for your professional guests?
With their library of thousands of songs and creative mixing skills, the DJ can orchestrate a truly one-of-a-kind musical experience. 
As a bonus, their equipment is self-contained so you don't need to rent a separate sound system. 
Let the DJ handle the entertainment while you focus on event details.
Solo Musicians Set The Mood During Cocktail Hour
For more mellow entertainment, consider booking a talented solo musician like a pianist, guitarist, harpist, or saxophonist to play during cocktail hour. 
Their polished repertoire and professional gear ensures excellent musical ambiance for attendees while mingling over drinks.
Between sets, a charismatic solo musician may mingle themselves and engage guests in friendly conversation. 
This helps attendees feel welcome and warmed up for the main event. 
The rich mood-setting music also makes your event feel polished and sophisticated.
Local Musicians Showcase Regional Talent
For a community-oriented vibe, book local musicians from bands and music programs in your area. 
Attendees will enjoy discovering new talent while showing their support for the local arts scene. 
Musical acts like school choirs, regional bands, orchestra quartets, and community theater performers make excellent entertainment.
Not only does hiring local musicians give them invaluable performance experience, it also gives your event a meaningful connection to the place where you operate. 
Support talented performers where you live, work and serve!
Comedy Performances That Will Have Your Guests In Stitches
Comedy is a wonderful addition to any corporate event. 
Offering lots of laughs helps your attendees relax, enjoy themselves, and connect with each other through a shared sense of humor.
Let a Stand-Up Comedian Entertain The Crowd
Hiring a professional stand-up comedian to perform a 30-60 minute set is a fantastic way to add entertainment at your next corporate event. 
Their weekend-quality routine will have the crowd roaring with insightful observations and witty jokes customized for the occasion. 
Look for comedians who thrive on audience interaction and can roll with unexpected moments that may occur.
Comedians expertly pace their acts to land perfectly timed punchlines while also engaging in playful banter with those in attendance. 
The laughs and smiles generated will loosen up even the stuffiest corporate crowd. 
Consider booking a clean comedian so the humor is fun for all.
Improv Groups Encourage Spontaneous Fun
For interactive entertainment that gets the audience involved, improv comedy groups are a sensational choice. 
Improv performers play in-the-moment improvisation games based on suggestions from the crowd. 
This always leads to uproarious and unscripted comedy as the troupe thinks on their feet.
Watching peers and executives participate in the hilarious games opens people up to being silly and having fun together. 
Improv shows are ever-changing and never stale which makes each performance a one-of-a-kind experience. 
They require minimal preparation and are appropriate for all attendee ages and comfort levels.
Add Laughs with a Caricature Artist
Another fun idea for injecting humor and creativity into your event is hiring a caricature artist. 
These talented entertainers interact with guests to create humorous drawn portraits highlighting their facial features and personality. 
The exaggerated sketches make hilarious keepsakes from the event that people will talk about for years.
Watching the artist capture big smiles and laughs as attendees pose makes for an upbeat, engaging atmosphere at any corporate function. 
Position the caricature stand in a high traffic area so the buzz it generates can draw in passersby. 
Be sure to have some chairs or stools so groups can stick around and watch the hysterical artworks come to life!
Be sure to have some chairs or stools so groups can stick around and watch the hysterical artworks come to life!
Awe Your Guests With Amazing Magic & Illusion Shows
Magic and illusion shows add a sense of wonder and disbelief that delights corporate crowds. 
A polished magician or mentalist can astound your audience and leave them marveling at their mysterious talents long after the performance ends.
Be Amazed By a Master Magician's Sleight of Hand
Hiring an illustrious magician for your corporate event lets you bring the astonishment and showmanship of Las Vegas to your very own venue. 
Guests will be utterly baffled as the magician unleashes masterful trickery before their eyes.
Watch jaws drop as the magician pulls off big stunts like making audience members levitate or appear to teleport across the room. 
Smaller close-up magic routines draw everyone in while the magician expertly manipulates cards and coins in impossibly deceptive ways. 
This up-close experience creates unforgettable moments for your attendees.
For more personal interactions, have the magician perform tableside magic during the cocktail hour or meal service.
They can visit each table and work their wizardry to the delight of small groups. 
It all adds up to a mood of mystery and amazement surrounding your event.
Be Baffled By Mentalists With Mind-Reading Powers
Similarly flabbergasting are the skills displayed by mentalist performers. 
Mentalists use highly honed techniques of psychological manipulation and suggestion to exhibit what appear to be actual psychic powers.
A talented mentalist may identify objects in attendees' pockets, reveal their secret wishes, or deduce seemingly unknowable personal details. 
It all looks completely authentic, leaving guests shocked at the mentalist's extraordinary mental abilities. 
How do they do it? 
The secret will have everyone buzzing long after the show.
Add Illusions For Jaw-Dropping Surprise
Take the entertainment up a notch by having a professional illusionist perform larger-scale magic and escapes. 
Companies like Caesar's Entertainment specialize in custom corporate illusion shows featuring big set pieces like levitating attendees, vanishing objects, interactive mind reading, and Houdini-esque escapes from handcuffs, straitjackets, and more.
Seeing a performer emerge unscathed from a container filled with water or run through a laser field unseen will elicit audible gasps across the room. 
The spectacle provides an unforgettable "wow factor" at any corporate occasion.
Driving home the message that "anything is possible" resonates well with motivated professionals.
Easy starting packages • Advanced options • Proven results
Lively Dance Performance For Artistic Flair
Incorporating dance performances is an impactful way to celebrate culture and creativity at your corporate event. 
Audiences are captivated by the athleticism and artistry of a compelling dance show.
Hire Professional Dancers For A Polished Routine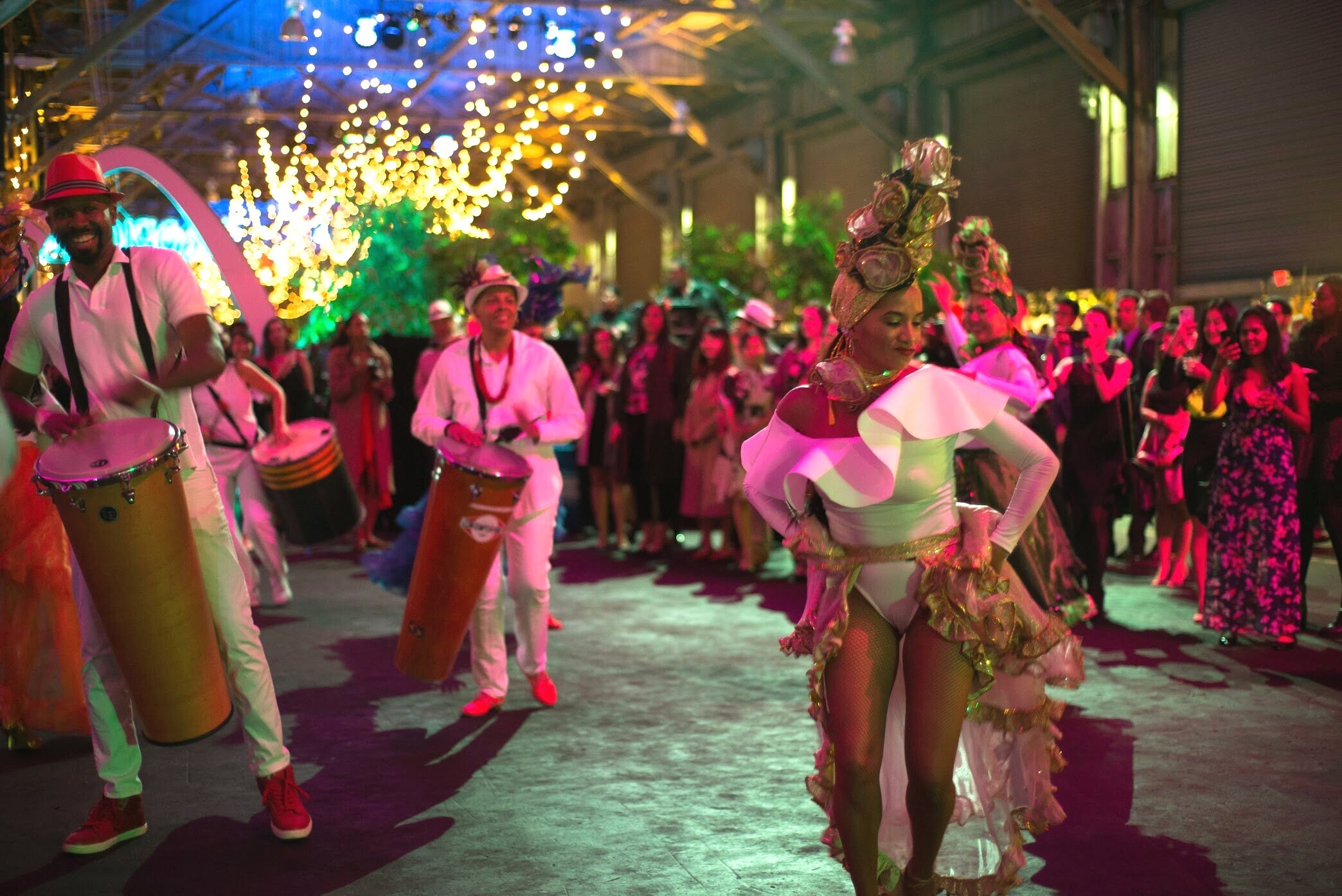 Thrill your guests with an exciting routine delivered by professional dancers. 
Their experience and choreography skills produce an exhilarating showcase performance. 
Jazz, tap, ballet, hip hop, contemporary – the options are limitless!
For maximum engagement, look for troupes that blend recognizable music and crowd interaction into their routines. 
Encourage guests to move closer to the dance floor to give them an up-close view as the dancers' artistry unfolds. 
Time your dance performance to coincide with the major moments in your event program for maximum effect.
Showcase Local Talent From Dance Schools
Similar to local musicians, booking student groups and youth dance companies from area studios supports talented performers in your community. 
Their enthusiasm is infectious and the skills they display will impress and inspire your corporate audience.
The opportunity to perform for professionals gives young dancers valuable real-world experience. 
And coordinating with local studios strengthens your brand's community ties.
It's a win-win for everyone involved.

Hold An Exciting Dance Contest or Competition
Amp up audience participation with a high-energy dance competition! 
This could be open to all guests or feature teams representing different company departments. 
Select fun themes like 80s dance off, line dancing, breakdancing and more to showcase silly side and camaraderie.
friendly competition gets everyone engaged either as participants showing off their moves or spectators cheering on peers. 
Consider awarding fun prizes like custom swag and gift cards to keep energy high. 
Interactive dance activities get guests out of their seats and make for an unforgettable event experience.
Unique Event Entertainment For Exciting New Experiences
Why settle for ordinary entertainment when you can create truly unforgettable experiences at your next corporate event? 
Keep your guests talking with these unique event entertainment ideas that offer interactive thrills and excitement.
Virtual Reality Puts Attendees Inside Immersive Worlds
Cutting-edge virtual reality technology lets your guests see, feel, and interact within completely digital environments. 
Working with VR companies, you can offer spellbinding simulations that feel astonishingly real and engaging. 
Attendees could swim with dolphins, fly over stunning landscapes, practice public speaking, and much more – all within lifelike simulated worlds.
Bringing VR to your event shows an innovative brand identity on the cutting edge. 
Best of all, virtual reality delivers excitement and awe that feels worlds apart from a typical corporate experience. 
Just watch the smiles spread as another coworker takes off the headset after their unforgettable VR journey!
Game Shows Build Teamwork Through Friendly Competition
Get everyone engaged by organizing a customized game show as entertainment. 
Interactive quizzes and contests with props build camaraderie and friendly competition between coworkers. 
Popular options include Company Feud, relay races, scavenger hunts, and trivia games with buzzers. 
Award silly prizes like noisemakers, hats, and event swag to winners. 
Your guests will be all smiles as they get into the competitive spirit, with morale and coworker bonds stronger than ever.
Casino Games Bring Thrilling Atmosphere
For adults-only corporate events, a popular idea is to bring the excitement of Las Vegas right to your venue by providing casino game entertainment. 
With colorful decor, lively music, and professional equipment, your space transforms into an immersive casino environment.
Popular casino games like blackjack, roulette, craps, and poker get attendees betting with funny money to win raffle tickets and additional prizes. 
Casino entertainment captures the electric energy of Vegas and brings out attendees' competitive spirit. 
Be sure to have guides on hand to teach the games to new players.
Plus, playing casino games gets attendees mingling and making new connections in a lively social setting. 
The high-energy casino environment sets your corporate occasion apart from the typical cocktail-dinner party.
Bring Hollywood Glam With A Red Carpet Step and Repeat
Make attendees feel like VIPs by setting up a sleek step and repeat photo backdrop printed with your event/company branding. 
Guests can walk the "red carpet" and pose for professional photos to commemorate the occasion.
Not only does it generate shareable media for your brand, it also makes for an elegant, Hollywood-style arrival experience.
Having a professional photographer capture guests looking their best makes for amazing artifacts from the event. 
Provide printed copies as takeaways or email digital galleries after the fact so guests can show off these stylish photobooth-quality shots. 
Event Rentals To Elevate Your Experience: Photo Booths, Lighting, and More
Event rentals take your corporate occasion to the next level by transforming the aesthetics and ambience. 
Use rentals to create a buzzworthy atmosphere that wows attendees with your event mastery.
Fun Photo Booths for Candid Printed Keepsakes
Photo booths are a must-have rental to include at corporate events. 
They encourage attendees to let loose and capture the fun of the occasion in candid photobooth-style prints to take home. 
Most units can be customized with your event/company branding and offer options like green screen backgrounds, animated GIFs, and text/doodling options.
The instant hard copy prints double as shareable event memorabilia and personalized favors for guests. 
Having a photo booth also gives groups another activity that facilitates mingling and laughter. 
Ensure your rental comes with an attendant to assist guests and replenish print supplies as needed.
Professional Sound & Lighting Sets The Scene
Don't rely on the outdated house sound system and harsh fluorescent lighting of the conference hall.
By renting professional audio and lighting equipment, you gain complete creative control for designing an immersive atmosphere.
Modern LED lighting fixtures in different colors, movement patterns and intensities allow you to set any mood. 
Uplighting and gobos cast your logo around the room. 
Intelligent DMX boards pre-program synchronized light shows to coincide with entertainment cues. 
And concert-quality sound systems make music crystal clear. 
Used together, audiovisual rentals amplify the guest experience.
Tent & Lounge Rentals Design VIP Retreats
For indoor/outdoor events, rent luxury lounge and tent furnishings to create relaxing retreat spaces for attendees. 
Chic furniture rentals like couches, day beds, side tables, rugs, and lighting shape relaxing lounge areas for cocktail mingling and conversation.
Outdoors, sailcloth tents adorned with sidewall drapes, chandeliers, and furnishings apply a touch of class and sophistication. 
Use tents and furnishings rentals to design eye-catching destinations that encourage guests to settle in and enjoy the atmosphere you've created.
Bring Your Next Corporate Event to Life with Memorable Entertainment
You've just uncovered the most dynamic entertainment options to wow your next corporate crowd. 
Now is the moment to transform these ideas into an unforgettable event that cements your company as a top-choice partner.
But producing a corporate event with hit-the-mark entertainment is complex.
Don't stress yourself out handling the myriad details. 
Bring in the experts at We & Goliath to flawlessly manage the entertainment and deliver an extraordinary event.
Our team will meet with you for a completely free, no-obligation strategy session to shape an entertainment plan that excites and engages your guests. 
With over 20 years crafting corporate events, we know how to select entertainers and performances tailored to your brand and attendees.
Secure your free strategy session now and unlock insider tips on entertainment success. 
Let's start planning the corporate event you've always envisioned – one jam-packed with entertainment experiences they'll rave about for years.